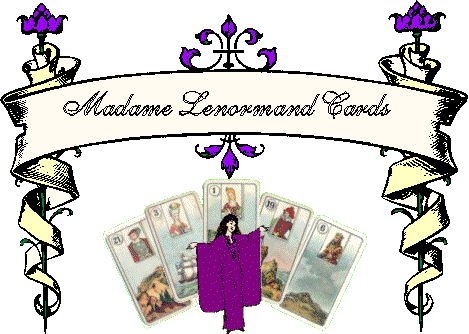 Marie Anne Adelaide Lenormand was born on May 27, 1772 in Alencon, France.
At the age of 21 she moved to Paris where she discovered she was a
gifted card reader and soon went into business with Madame Gilbert.
Her card readings were so accurate that as word of her grew so did her
popularity. She was a big hit with the "celebrities" of that time, such
as Napoleon, Josephine de Beauharnais, Robespierre, Louis 18th and so on.
Her prediction that Napoleon was soon to be divorce was so accurate that
he locked her up until his divorce was finalized.

Now let Madame Lenormand's cards devine your past, present and future.
These are the cards she developed. Have a good time with it!!
First concentrate on your question. The better the concentration the better
the reading.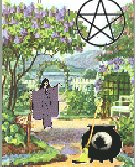 ..
..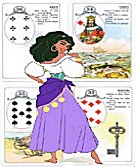 (Three decks to choose from. Cards only show one at a time.)
The first three devines your past
The next three devines your present
The last three devines your future.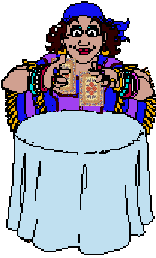 Gypsy faints because of your cardreading. lol